IS THIS COURSE FOR YOU?
✨BEFORE WE GET INTO THE DETAILS, LET'S TALK ABOUT WHO THIS COURSE IS REALLY FOR:
Dancers and Dance Instructors Who:
✔️ Want To stop getting or giving the same corrections over again
✔️ Feel like their skills are SO CLOSE but something is missing
✔️ Want to stop feeling overwhelmed with what to do about strength training
✔️ Feel frustrated that what they're doing isn't working
✔️ Want their team to dance as ONE
✔️ Want a simple and effective strength program to use regularly
🔥
Who
Want to know:
✔️What exercises will make their dancers stronger and more conditioned, so they will stay on relevé; extend through their legs/feet and look way more polished
✔️Exactly which exercise they need to master specific skills
✔️How many days a week to exercise and for how long
✔️The best exercises for their style of dance
✔️How to fit conditioning into a busy practice schedule
✔️How to reduce dance related injuries
🔥Because....
Strength training fills in the gaps that technique can't reach.
It helps dancers become more aware of their body so they can finally understand:
✔️Which muscles they need to stay in relevé
✔️ Which muscles they need to use for control and sharp movements
✔️How to explode off the floor in their jumps or get low in their plié
✔️How to Improve their flexibility
✔️How to Fix corrections quickly
If you answered YES to the above- you're in the right place to start improving skills, endurance and reducing injuries.
By The End Of This Program You Will Confidently Know:
Exactly which exercise are needed to master the skills you need most

How much and how many of each exercise to do for best results
How to add strength training into your practices and rehearsals
Which exercises you need for your style of dance and skills
How to make strength training a consistent part of your season
How to safely make your dancers stronger
Exciting Results You Can Expect:
You'll no longer

struggle with getting your rookie dancers to look like your vets

Your dancers will have strength behind their movements and skills

Your dancers will improve their skill consistency
Technique and endurance will transfer from practice to the floor
Your dancers will look polished, dance with confidence and increase scores
Each week of content is filled with the tools you need to improve:
Jumps & Leaps
Turns & Kicks
Flexibility
Extension
Endurance
Strength
Execution
Real Results For Real Dancers: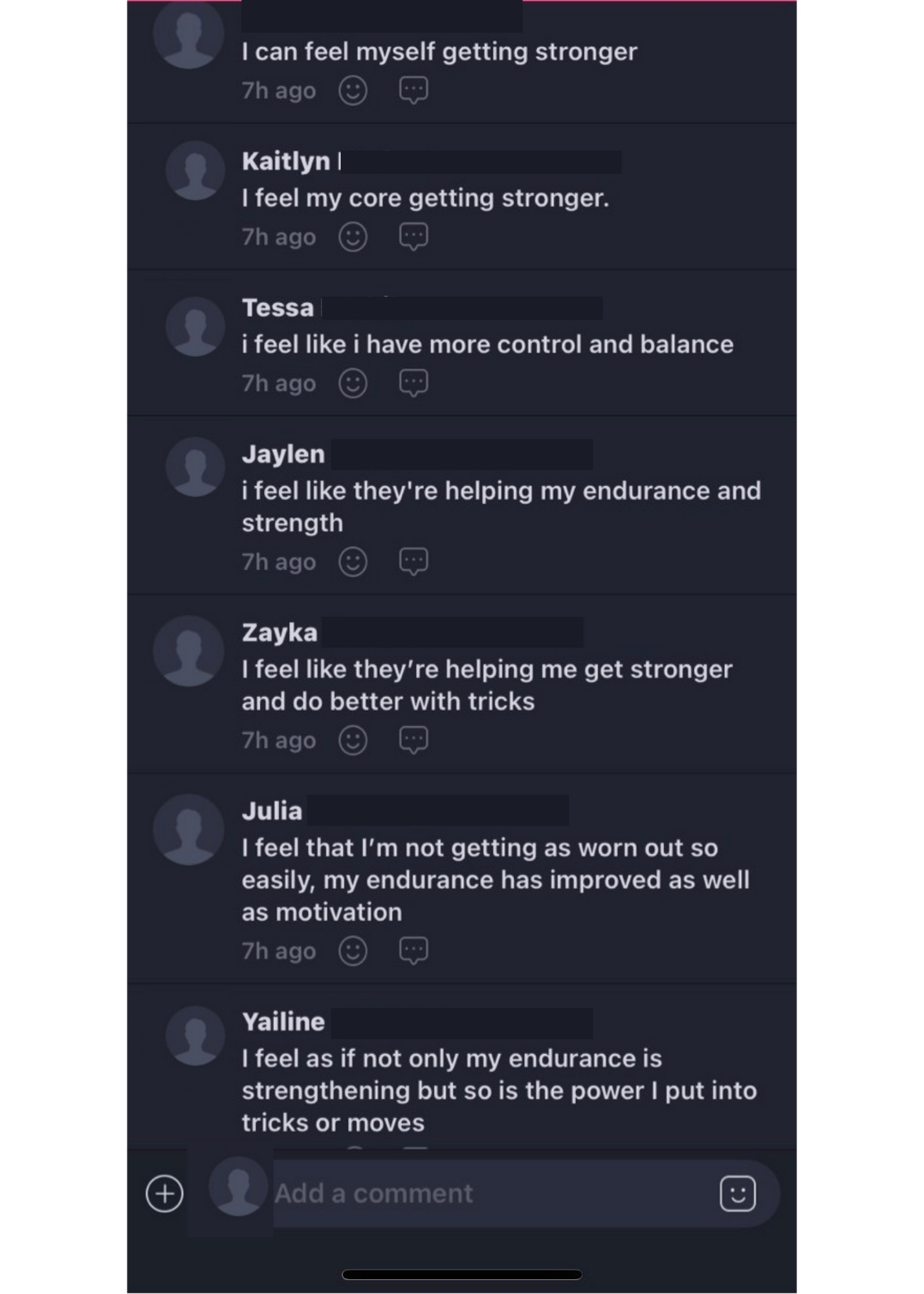 "It improved her all around strength and we will continue program year round" - Mother of dancer Logan
"Things started to "click" more for the dancers regarding the muscle groups that they need to use in order to execute the particular skill correctly. They really enjoyed the workouts!" - Coach Alysia
"The girls stated they can feel themselves getting stronger and making it though circuits they couldn't get through a month ago!" - Coach Cara
"Our dancers increased endurance and felt like they were getting better at skills they used to struggle with" - Coach Yvonne
What's Included in the Course?
12 weeks of hand crafted team workouts (Over 30 FULL workouts!) you can pull up in class or assign to your dancers outside of practice. All workouts include exercise videos and printable training plans.


Full Length Workout Videos: Easy to follow along with at your own pace!
Bonus training videos explaining proper form and cues for essential exercises like squats, planks and push ups so you know how to keep your dancers safe.
One 30 minute zoom call with Katie Groven (me!) and you to discuss team goals, weaknesses and receive customized recommendations for using the course. Feel free to include your coaching staff and leadership team too!
Community support and access to me through the BAND App. Use this as a place to connect with other coaches and of course ask me questions and get personalized help and feedback
MORE time for technique, team bonding and confidence knowing that you have a master plan that works.
What Teams Are Saying:
" I have to tell you, Katie, your plans are working so well with our athletes! We scored our highest kick score on a first meet last week! It was higher than what we scored at Sections and State last year! It is because you and your training plans that we diligently follow! It's amazing!"
Coach Molly - Henry Sibley Dance Team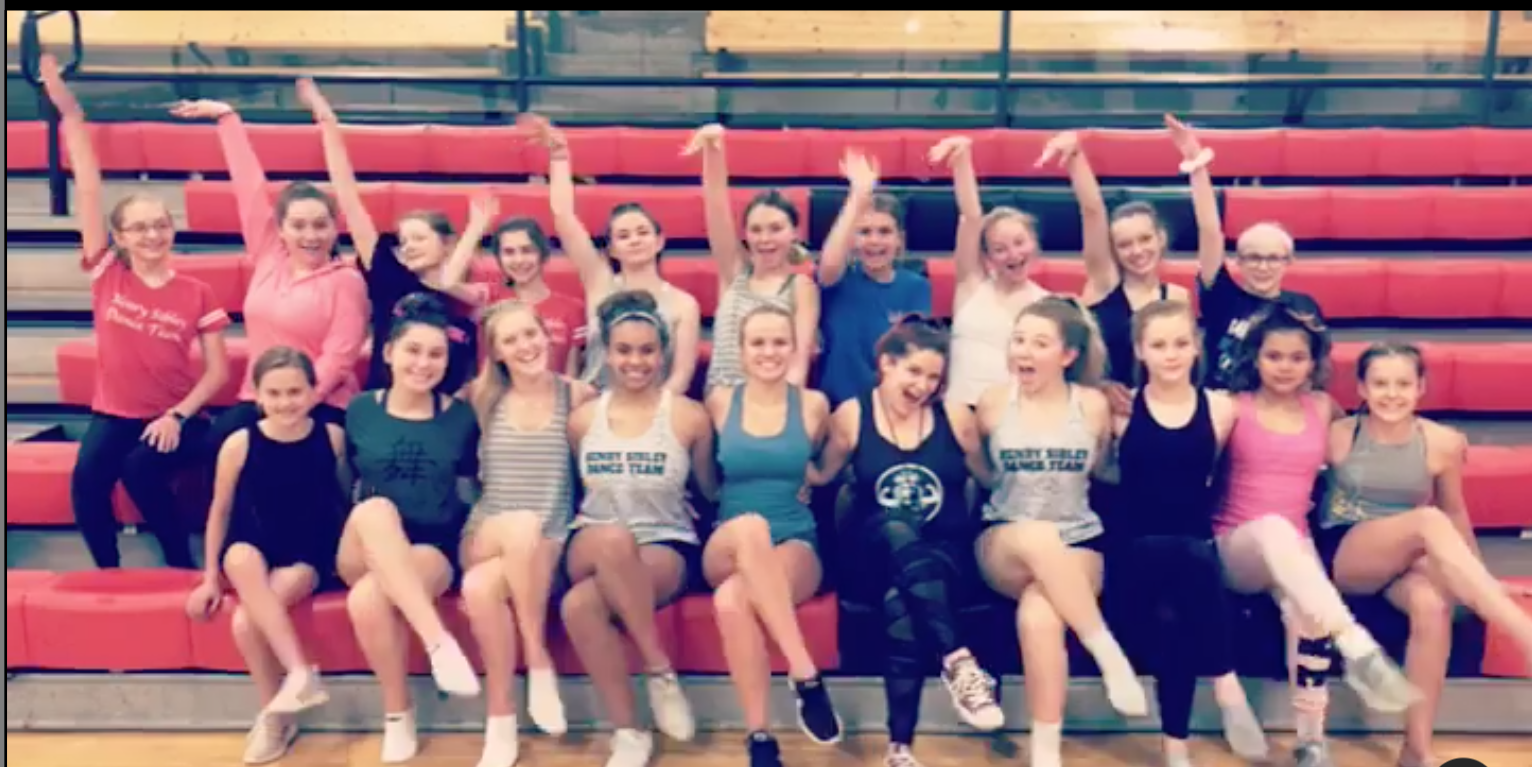 Tell Me More About the Weekly Workouts and Training Plans!
Each week of workouts



is expertly crafted and designed to build on the previous week.**
Each week includes 2 to 3, workouts with printable plans and full length workout videos.
Each workout includes instructions and modifications to build on the plan throughout the week
Workouts can be done as a team or individuals!
** feel free to pick and choose the weeks you want to do based on your team goals and our zoom call recommendations.
Weekly Training Plan Themes
Week 1: Mind body connection (core, glute and supporting leg activation)
Week 2: Endurance training and performance
Week 3: Turn technique
Week 4:Jump / leap technique and power
Week 5: Placement and control
Week 6: Execution of skills
Week 7: Hip Flexibility / strength and extension
Week 8: Stability and weight transfers
Week 9: Jazz Technique
Week 10: Kick Technique
Week 11: Pom Technique / Upper body strength, placement and control / advanced turn technique
Week 12: Skill Highlights! Advanced jump, leap and turn technique
Included in Each Training Plan: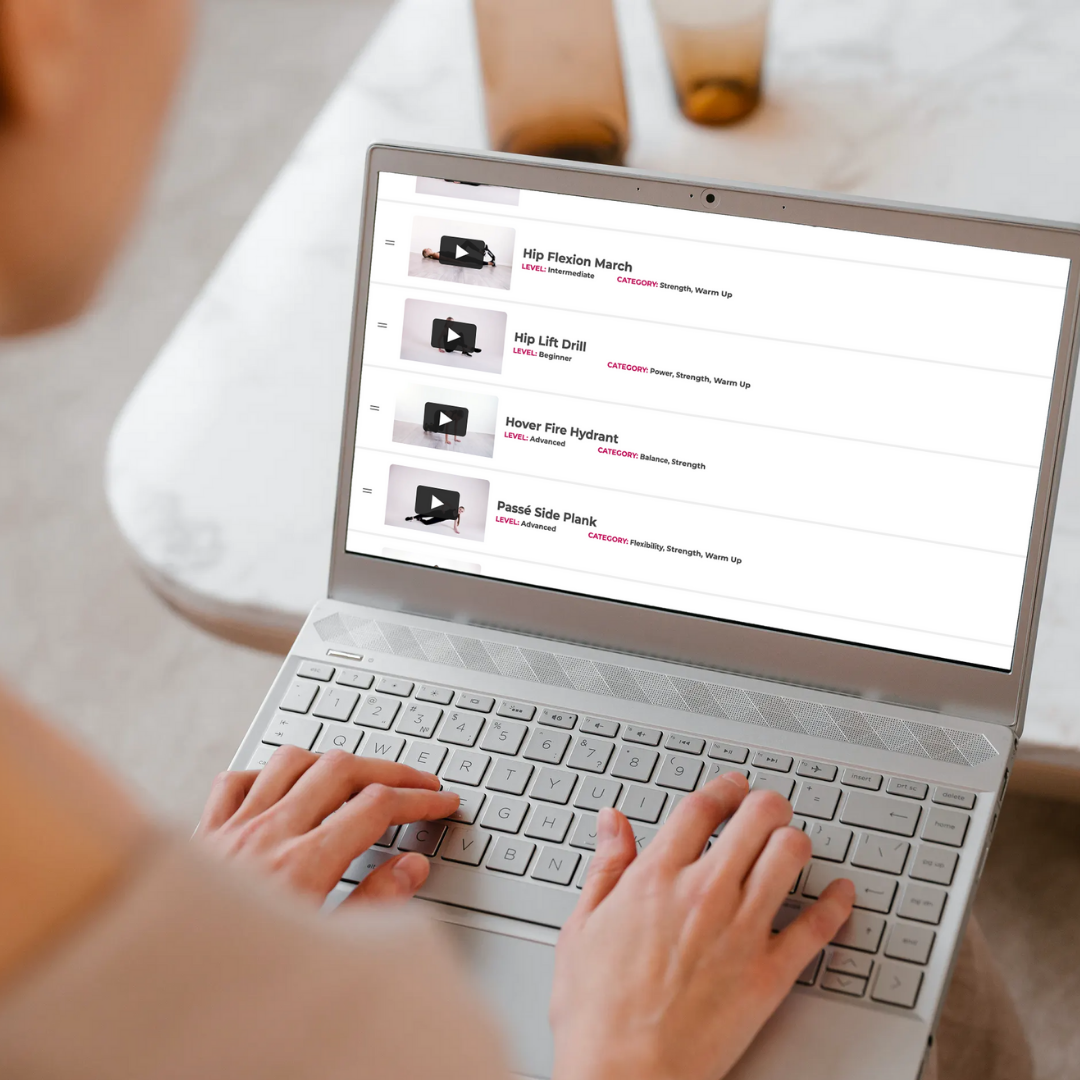 Which exercises to do
What skills or muscle groups they'll benefit
How many repetitions to perform
How many rounds of exercise to do
Thumbnail images of each exercise to reference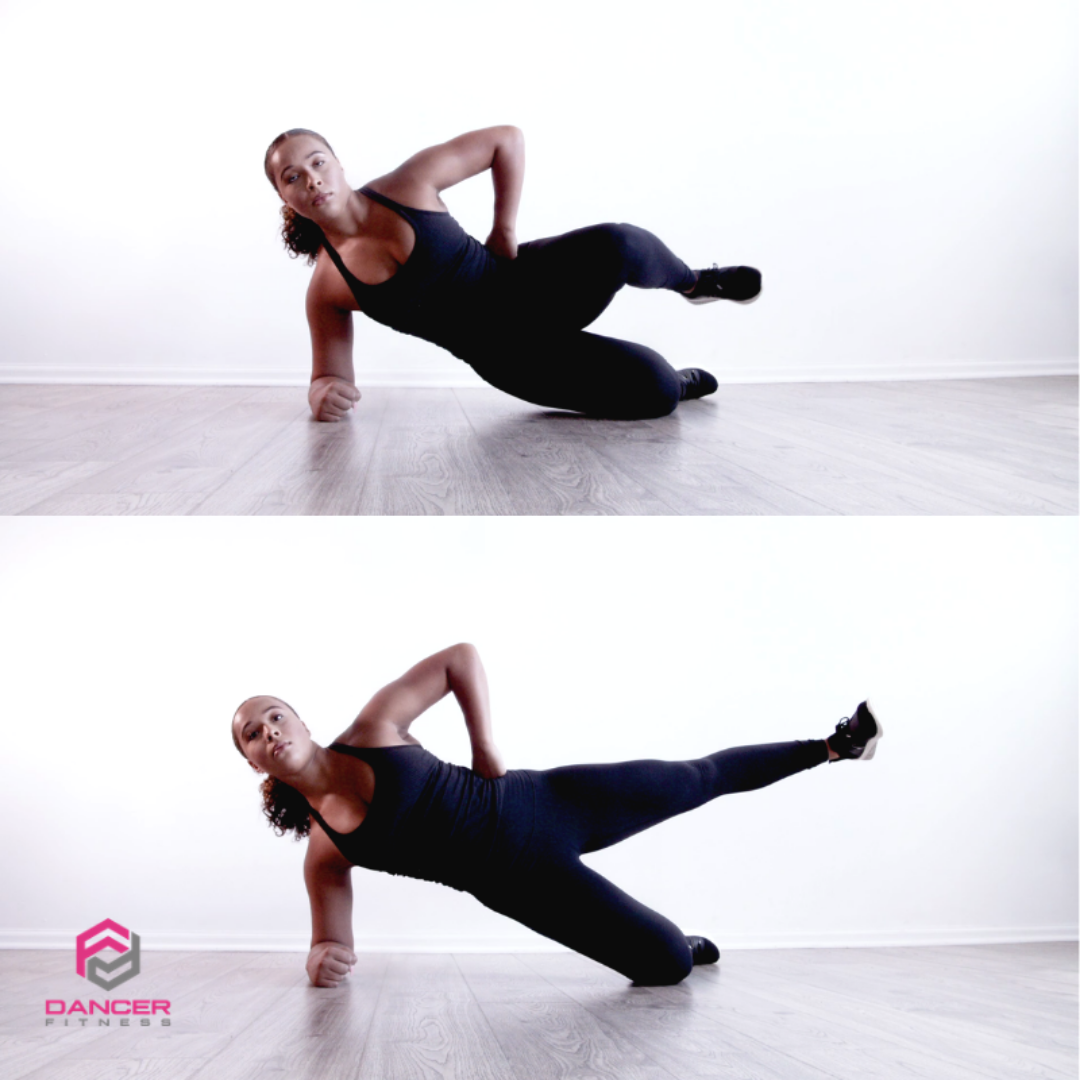 Modifications For All Levels


Simplify an exercise for beginner dancers
Add advanced options for older dancers
Add advanced options to build on the training plan as the week goes on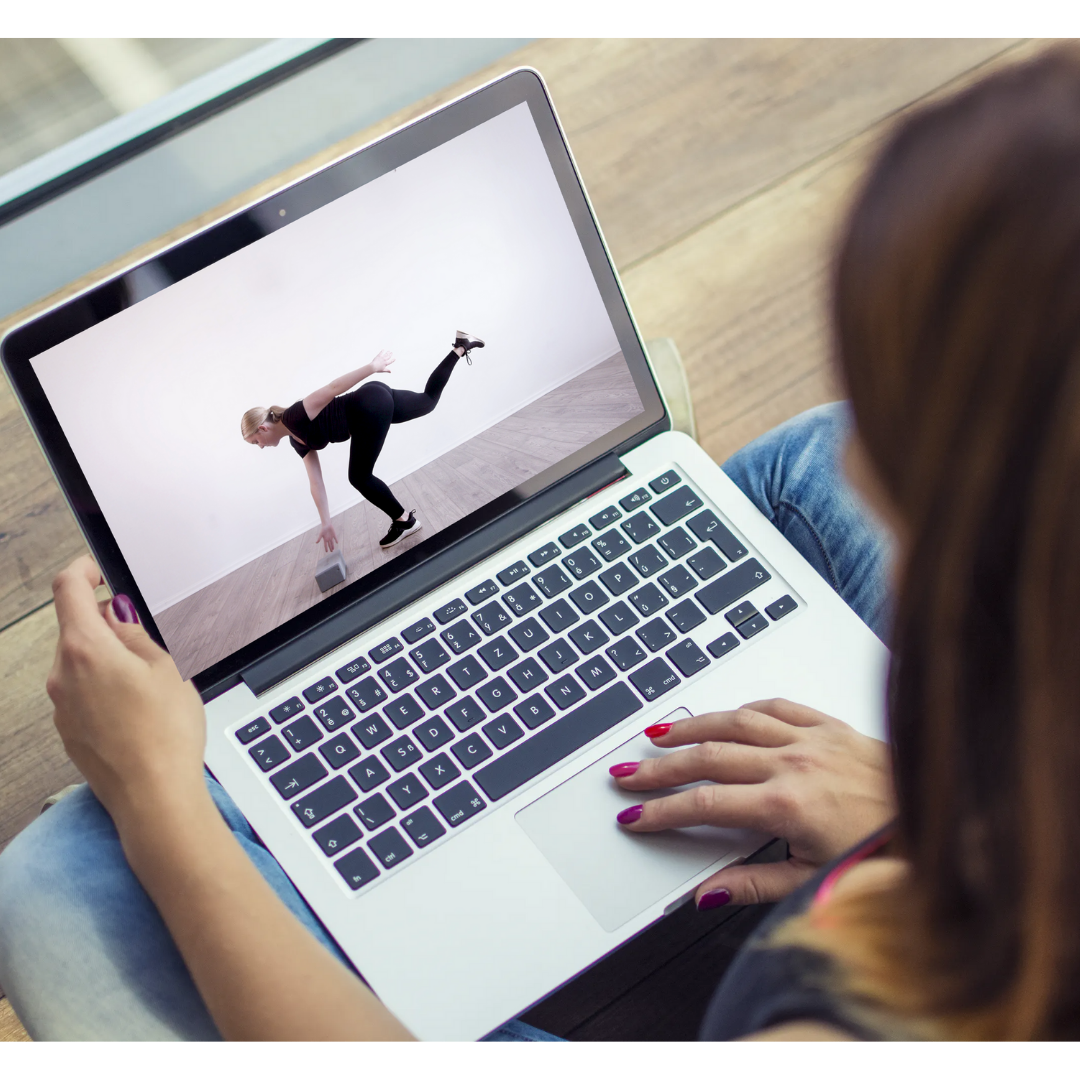 Full Length Follow Along Workout Videos
Giving you the confidence to know your dancers are performing each exercise correctly and safely
Explore a Sample Training Day:
Hi I'm Katie Groven!
World champion dancer, personal trainer and the creator of Training Your Dancers Made Easy
Welcome! I created this program because I spend half of every year traveling around the midwest (and now over zoom) teaching bootcamps and fitness classes to studios and high school teams. My speciality is training dancers to optimize their skills using strength training.
My teaching philosophy centers around
Mind body connection
Breaking down each skill or style of dance into pieces and training their body for each piece of the puzzle.
Empowerment around training like an athlete
I teach in a way that helps dancers understand how to engage each muscle, what skill that muscle is for and finally putting it all together to create a blueprint for their body and cheat sheet for them to understand:
"If I want to turn better or jump higher I need to strengthen muscles A,B,C and I need to use them in this order"
Training Your Dancers Made Easy takes this signature training system and breaks it down into a step by step, follow along system that YOU the coach can do in your own practices.
Using this exact system, I've helped numerous teams in Minnesota place in the top 3 or top 5 at their conference and state championships - and now you can too!
My goal for you, is to make this season your strongest yet so you can start competing stronger, with more group skills and less injuries than ever before.
Thank you for being here, please enjoy!
You Have Questions?
I have answers!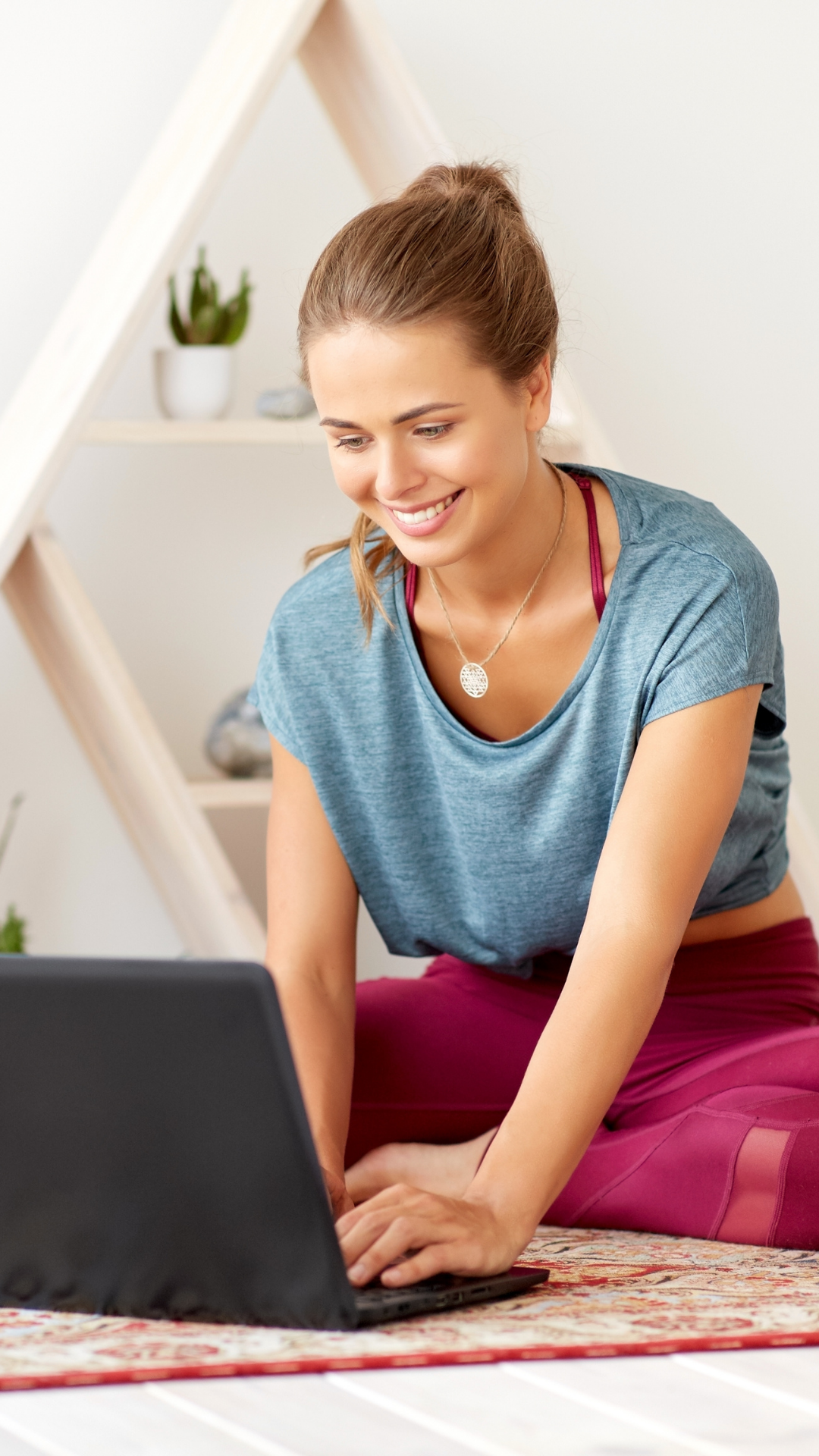 Is this program something my dancers can do on their own?
Yes! Simply download and email the training plans to your dancers or share your login information. The detailed instructions, modifications, and videos will ensure your dancers are staying on track and staying safe while training at home this season
I'm a dancer or a dance parent can I purchase this or is it just for teams?
Not just for teams! This is a fantastic program for any dancer who wants to improve this season and likes to follow a simple, laid out plan.
How long do I have access to the material?
Forever! Which means you can use these training plans repeatedly. Videos never expire.
What If I have multiple levels in my class?
All exercises and training plans come with modifications on how to increase difficulty or simplify to meet the needs of your dancers.
You can also reach out to me directly through our community page for more specific modification needs.
What equipment is needed for the exercises?
None! Exercises can become more advanced by adding an athletic band but no equipment or weight room is necessary.
How long are the workouts?
Each workout is designed to only be 10 -30 minutes long so you can get back to your technique, cleaning routines and running dances
Do I need to follow the weeks in order?
No! Each week is designed to build off the previous week but you can bounce around, repeat weeks or choose the ones that work best for your team goals.
How can I fit strength training into my already busy practice?
I would recommend doing your team workout after stretching and before technique training. *We can discuss the perfect fit in our zoom call
P.S You'll save time working on skills as your dancers are controlling their body more and you no longer need to spend time wondering how to structure an effective workout, I already did that for you
What if I don't have any fitness experience?
That's fine! You don't need it. With detailed exercise instructions and videos PLUS access to me in our community chat, you can feel confident you're training your dancers safely and effectively.
My team is lacking motivation. Will this help?
Yes! In fact, having your dancers involved in the process of planning the workouts, leading them and creating challenges around the exercises is a great way to promote leadership, team bonding and motivation.
Can I get an invoice to submit to my school?
Yes! Email [email protected] and I'll create an invoice you can submit to your school or booster club.
Still have questions? I'd love to hear from you!
Unlock This Incredible Value
One 30 minute zoom call ($60 Value)
12 weeks of hand crafted team workouts ($600 value)
Bonus training videos ($280 value)
30 Live Workouts with Katie ($1800 value)
Increased strength, confidence, skill consistency and scores (Priceless)
$2,740 of services and expertise


What Teams Are Saying:
"Our studio found Katie's strength and endurance program to be a fun and beneficial experience for our dancers. Not only did the program help the growth of our dancers, but they absolutely loved it! She pushed them in a way that was both fun and challenging. We loved it!"
— Larkin Dance Studio